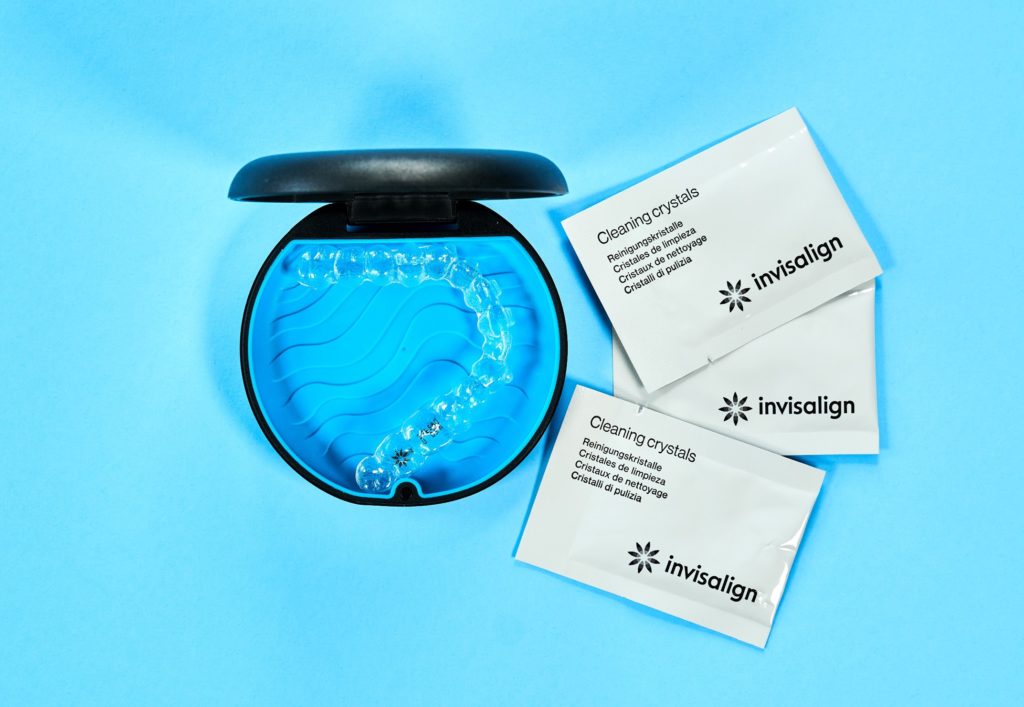 Naturally, one of the biggest perks of Invisalign is the clear, see-through aligners. However, it's important to remember that they aren't stain-resistant. On the contrary, poor habits (like drinking coffee with your trays in) can cause them to turn yellow. The good news is that the cleaning crystals that come in your welcome kit can help prevent them from looking discolored and smelling bad. So, read on to learn when and how to use your Invisalign cleaning crystals!
Howto Use Your Invisalign Cleaning Crystals
Fortunately, using your cleaning crystals is easy – it can be done in five simple steps! Here's a quick breakdown of how to use them properly:
Step One: Remove your aligners and rinse them with clean, room-temperature water.
Step Two: Place your aligners in a container filled with warm water and one packet of cleaning crystals (there should be enough water so your trays can be submerged completely).
Step Three: Gently shake the container for 20 seconds or so to dissolve the crystals.
Step Four: Let your aligners soak for 15 minutes.
Step Five: Remove your aligners and rinse them thoroughly with room-temperature water.
When to Use Your Invisalign Cleaning Crystals
Remember, you don't need to use the cleaning crystals on a daily basis to keep your aligners clean. On the contrary, you can keep them in pristine condition with a soft-bristled toothbrush and water! If stubborn stains do start to surface, however, then you should use the cleaning crystals to provide your trays with a deeper clean.
Bonus tip: soak your aligners while you're eating! Multi-tasking will help you meet the 20–22-hour wear time, which is crucial to staying on-track with your treatment plan.
5 Additional Ways to Keep Your Aligners Clear
In addition to using the cleaning crystals as needed, make sure to:
Always remove your aligners before eating or drinking anything other than water.
Store your trays properly (not wrapped in a tissue or on top of your plate).
Brush and floss your teeth after each meal.
Rinse your aligners thoroughly each time you remove them and before you put them back in.
Don't engage in unhealthy dental habits, like smoking.
With the right habits in place – including cleaning your aligners daily and using the cleaning crystals as needed – your trays will be clear, see-through, and discreet throughout your entire treatment!
About the Practice
Our top-rated team at Milton Orthodontics isn't just here to help you achieve the beautiful smile you deserve; we're here to make the treatment process as smooth as possible as well! In other words, we're here for you from your first phone call to when it's time to make your retainers. If you have a question about how to care for your aligners properly or you'd like to schedule an appointment, visit our website or call (617) 698-8883.