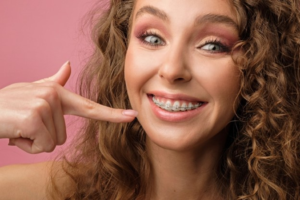 If you've recently begun your braces journey, you're probably feeling pretty excited about the prospect of having a straighter and healthier smile that exudes confidence! However, you might have noticed that your new hardware is causing your teeth to feel a little loose. But this is nothing you should feel alarmed about, and your teeth aren't in danger of falling out! Here's why braces can sometimes cause teeth to feel loose and why it's nothing to fret about.
Braces Work by Moving Your Teeth
Braces include brackets that are cemented to the front of teeth and an archwire that runs through those brackets, which creates tension and puts pressure on the teeth. This pressure gradually moves teeth into a correct and straighter position, giving patients the beautiful symmetrical smile that they desire.
This movement doesn't just yield positive aesthetic results; it's accompanied by several oral health benefits including improved speech and oral functionality, as well as making it easier to clean the teeth. Braces also reduce the risk of TMJ (temporomandibular joint) disorders.
Loose Teeth Is Part of the Process
Since braces work by literally pushing and pulling your teeth across your mouth, needless to say, the process can lead to patients feeling like their teeth are loose. Even though the teeth remain securely attached to the periodontal ligament, the loose feeling results from the stretching and compressing of this ligament as it creates wider space for the teeth.
After months of putting pressure on teeth, the bone is eventually broken down and rebuilt to accommodate the movement until correct alignment is achieved. Once the teeth have moved as desired, the feeling of looseness should disperse.
Tips for Managing Any Associated Discomfort
You might find that your teeth and mouth also feel a bit uncomfortable or sore when you first get your braces. This is normal, and it will go away after a few days, but in any case, at-home remedies such as saltwater rinses and the use of pain relievers can provide relief.
Braces are capable of straightening teeth in both children and adults alike, and they've helped countless generations achieve healthier and straighter smiles that boost their confidence and oral health. Just keep in mind that the process is gradual, and feelings of discomfort and looseness are a worthwhile tradeoff!
About the Practice
Here at Milton Orthodontics, we're thrilled to provide patients and families in the Milton area with an unmatched level of compassionate care! Under the leadership of Dr. Dennis Sherman, we're excited to offer a wide range of services including traditional braces. If you have any questions about the blog or you would like to schedule a visit for you or a loved one, feel free to contact us online or by phone for further information. Telephone: (617) 209-6980.