Invisalign – Milton, MA
Enjoy an Improved Smile and No Diet Restrictions
One of the downsides of wearing traditional braces is that you can no longer enjoy certain foods. You also need to make significant adjustments to your oral care routine. Patients with less severe cases can avoid these inconveniences by getting Invisalign clear aligners, a removable option that grants additional freedom throughout your treatment. Call Milton Orthodontics today to learn more about Invisalign and see if you qualify for clear aligners.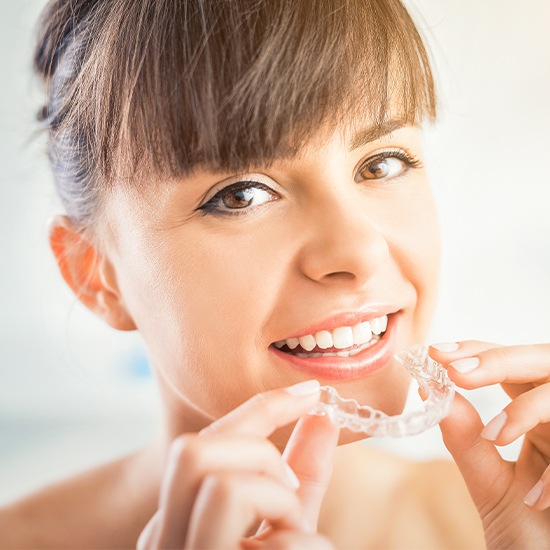 How Does Invisalign Work?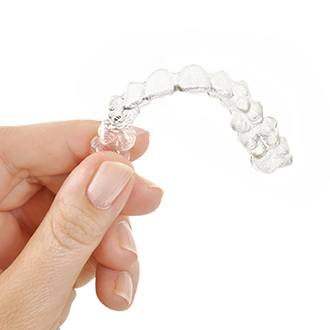 Impressions are taken of your teeth, and a lab uses that information to create multiple alignment trays. Each tray can be considered a different "step" of the treatment; you'll wear each set for about two weeks before moving on to the next one. You need to leave them in your mouth for roughly 22 hours every day in order to make the necessary adjustments. We'll ask you to come in periodically so that we confirm that the treatment is on track. Once you've completed the series, you'll receive a retainer to ensure that the results last.
What to Expect During Your Treatment?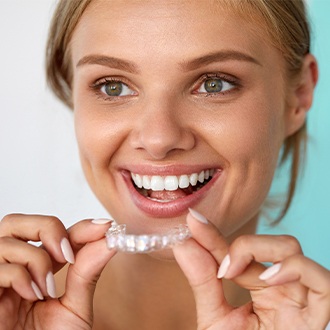 It's important to realize that even though Invisalign is removable, you can't simply take it out of your mouth whenever you want. The aligners need to stay in place for no less than 20 hours every day so that the teeth shift as they need to in order to reach an ideal position. That said, though, you can take your aligners out of your mouth during meals so that you can continue to eat all your favorite foods. You also don't need to work around your orthodontic device while brushing and flossing; you can instead take the aligners out of your mouth and clean them separately.
Who Can Get Invisalign?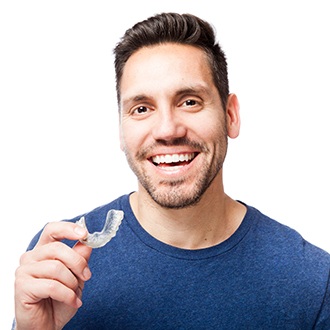 Invisalign is useful for correcting mild to moderate cases of crooked teeth or misaligned bites, but they usually aren't suitable for severe cases. They also don't work as well when it comes to adjusting crooked teeth near the back of your mouth. The treatment is usually recommended for adults and teenagers who have all of their permanent teeth. Younger children and those who lack the discipline to leave the aligners alone for the requisite amount of time each day, however, should probably receive a traditional treatment instead.
Invisalign FAQs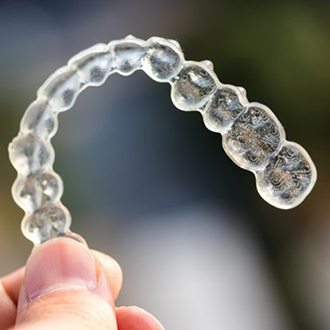 Are you ready to enjoy an improved smile and no diet restrictions? Before you're ready to commit to a treatment plan, it's likely that you have some questions that need answers. During your consultation, we'll walk you through every step of your Invisalign treatment plan and answer all of your questions. But, in the meantime, we've gathered some of the most common questions we get about Invisalign below. If you would like to learn more, feel free to call us.
Does Invisalign Hurt?
Invisalign aligners lack the sharp metal wires and brackets that make traditional braces notoriously uncomfortable. Instead, since they're crafted out of a single smooth piece of plastic, you can expect to enjoy a much more comfortable straightening experience! However, all orthodontic treatment comes with some level of soreness as your teeth are moved into place. Thankfully, any discomfort you encounter should be mild and short-lived.
How Long Does Invisalign Take?
Since no two smiles need exactly the same type of treatment, Invisalign timelines can vary quite a bit from patient to patient. There are many factors that go into how long your Invisalign treatment will take, including your age, oral health, and severity of your orthodontic issues. Plus, it's essential that you wear your aligners often enough to keep your treatment timeline on track. However, Invisalign typically takes about 12-18 months, which is significantly less time than traditional braces.
What Should I Do If I Lose or Break an Invisalign Aligner?
The speed of your treatment will depend largely on how often you wear your aligners, so if you lose or break one, it's important to take action right away. The first thing you should do is give us a call. From there, we'll determine if it's safe for you to move on to your next aligner or if you should wear your previous set until a replacement aligner can be made for you. Don't make this decision on your own! Moving on to your next set of aligners before you're ready can fracture the roots of your teeth and injure your jawbone.
Are Invisalign Results Permanent?
Invisalign has the potential to straighten your smile for life! That is, as long as you take the right steps to maintain your results. Like any orthodontic treatment, you'll need to wear a retainer once you've finished your series of Invisalign aligners. This little device works to keep your teeth in their new positions while your mouth finishes healing and continues to change over time. At first, we may instruct you to wear your retainer every night, but we may reduce that to a few nights a week after a while. Remember, it's essential to wear your retainer regularly if you want to keep your results for life!
Is Invisalign Covered By Dental Insurance?
There isn't a simple answer to this question because it depends on the details of your specific insurance policy. Not all plans cover orthodontic treatment, and of those who do, not all cover Invisalign. When we meet with you for your consultation, we'll be happy to review your dental insurance to make sure your benefits are being maximized. Additionally, we also offer limited time specials on Invisalign and flexible financing options to make achieving your new smile as affordable as possible.