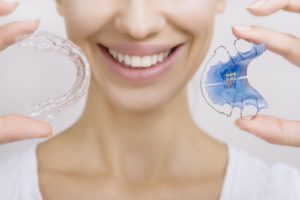 You might imagine that your journey towards a healthier and straighter smile has reached an end the moment you get your braces removed, but this usually isn't the case—more often than not, a retainer is necessary to ensure that your teeth remain in their intended new positions! If this describes your situation, you might be wondering if an older retainer can be used to re-straighten your teeth and compensate for any unplanned speedbumps during your treatment process. Continue reading below to learn more.
Why Are Retainers Necessary?
Unlike braces or clear aligners, retainers aren't designed to apply gentle pressure to your teeth in order to reposition them; instead, they're meant to help preserve orthodontic results and prevent relapse, which is when your teeth begin to shift back into their previous and incorrect position.
Even after undergoing orthodontic treatment, your teeth will naturally adjust from the forces applied to them from daily activities like biting and chewing; however, a retainer actually greatly mitigates this movement and protects your teeth. This means that retainers are actually a necessary and crucial step of the overall orthodontic process and shouldn't be considered as optional or an afterthought!
Can an Old Retainer Realign Your Teeth?
By design, retainers simply aren't capable of realigning your teeth, no matter any amount of wishful thinking! They don't apply the steady force over time needed to make major changes to your smile; they merely hold your teeth in place. So don't count on an older retainer being able to address notable misalignment.
That said, they can still help make very minor adjustments to the position of your teeth and bite! If you've neglected your retainers for a few weeks or months, be sure to try it on to see if it still fits; if so, it might be able to help undo any minor shifting that's recently occurred. If the retainer doesn't fit snugly or causes pain, be sure to contact your orthodontist for assistance!
Tips for Maintaining Your Retainer
Whether your retainer still fits or you end up getting a new one from your orthodontist, you should strive to take great care of it so that it serves you well for life. Consider the following tips:
Brush your teeth after each meal to ensure that your retainer isn't needlessly sullied when being worn.
Never eat while wearing your retainer, as this behavior might damage or disfigure it.
Keep your retainer in its storage case when it isn't being worn.
Contact your provider as soon as you encounter a problem or lose your retainer.
Orthodontic relapse can be frustrating; after spending all of that time and money on your teeth, it would be a shame to see a reversal of your results. That said, knowing how a retainer functions and being able to take proper care of yours will ensure your smile remains straight and beautiful for the foreseeable future.
About the Practice
Our team here at Milton Orthodontics is thrilled to serve patients and families from all across the Milton area! We're led by the awesome duo of Dr. Dennis Sherman and Dr. Ben Smith, who both have several years of experience and training in a wide range of orthodontic treatments. If you have any questions about the article or would like to schedule a visit with us, don't hesitate to contact us online or by phone today: (617) 698-8883.