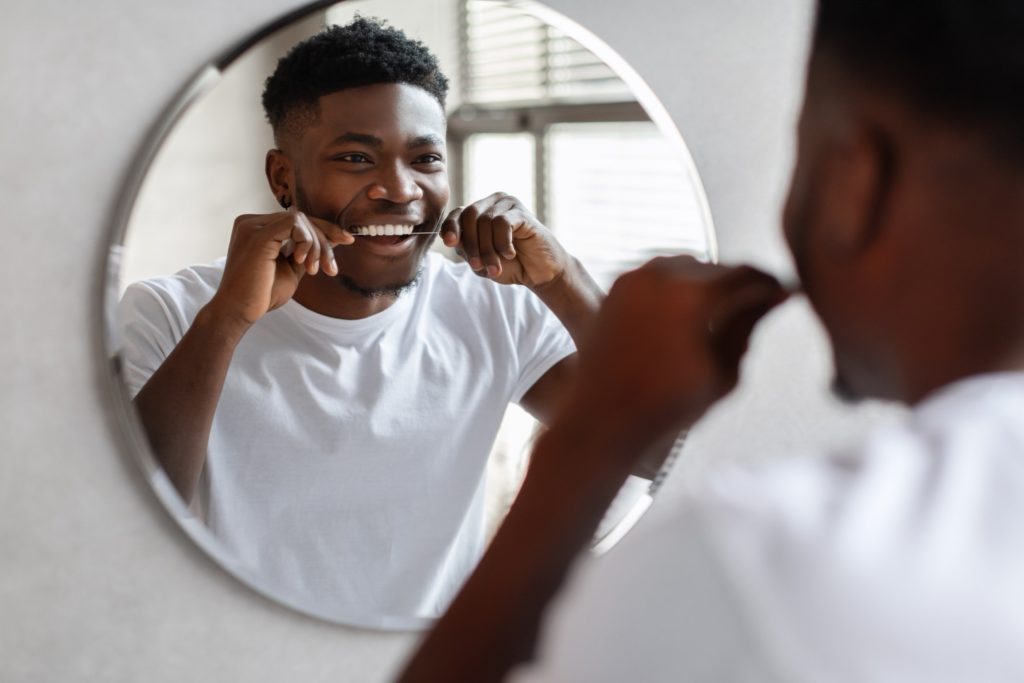 Be honest… How good are you about flossing daily? If the answer is "not very good," you're not alone. In fact, only about 40% of Americans are diligent about this oral hygiene best practice and a whopping 20% don't floss at all! It may seem unnecessary, but the small strand can play a crucial role in preventing serious dental problems, like cavities and gum disease. With this in mind, keep reading for a step-by-step guide to flossing with Invisalign.
First, A Quick Look at Why Flossing Daily Is Crucial
Flossing is just as important as brushing, yet the majority of Americans choose to forgo it on a daily basis. Sadly, this may be a contributing factor to the rates of tooth decay and gum disease. After all, brushing alone only cleans about 60% of the surface of your teeth! In order to remove plaque from along the gumline and clean between your teeth, you need to floss. This best practice is especially important when you have Invisalign because even a small cavity can derail your treatment timeline.
A Step-by-Step Guide to Flossing with Invisalign
The good news is that treatment with Invisalign doesn't involve metal brackets or wires, which makes the entire process much more seamless. Here's a breakdown of how to properly floss with clear aligners:
Step #1: Remove your trays
Step #2: Rinse your mouth thoroughly with water
Step #3: Use your floss of choice to carefully push the floss between two teeth
Step #4: Gently clean underneath the gumline by creating a "C" motion toward each tooth
Step #5: Repeat between all of your teeth
5 Additional Best Practices for a Healthy Smile
Flossing is one of many oral hygiene best practices you should be implementing throughout your treatment. A few additional ones include:
Using a soft-bristled toothbrush to brush for a full two minutes.
Rinsing with mouthwash for 30-60 seconds nightly.
Visiting your dentist every six months for a dental checkup and cleaning.
Avoiding unhealthy dental habits, like smoking.
Limiting your intake of sugary foods and beverages.
Remember, flossing isn't optional. It's a pillar of any solid dental care regimen! So, make sure to floss after each meal during clear aligner treatment (or at least once a day). That way, your teeth will stay happy and healthy throughout your time with Invisalign.
About the Practice
At Milton Orthodontics, our phenomenal team is here to provide you with a smile that is as healthy as it is beautiful. That's why we place importance on a solid oral hygiene regimen before, during, and after orthodontic treatment – we'll even show you the proper technique! If you're interested in getting Invisalign or have a question about how to care for your teeth with clear aligners, don't hesitate to get in touch via our website or by phone at (617) 698-8883.